400 NI education board staff 'acting up'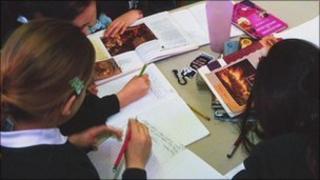 A recruitment freeze had led to more than four hundred education board staff "acting up" in jobs which cannot be filled, the BBC has learned.
The jobs freeze was introduced when it was thought that creating the Education and Skills Authority (ESA) would allow other authorities to be closed.
However, the Assembly has not approved the creation of the ESA and is thought unlikely to in the near future.
Public service union Nipsa has said the freeze has gone on too long.
It said the "vacancy control" policy should only have lasted eighteen months and, at five years, has gone on too long.
It means some staff have been "acting up" for six years.
The Southern Board, based in Armagh, has 132 staff working temporarily in higher level jobs.
In the Omagh-based Western Board 90 people are working in posts to which they cannot be formally appointed.
'Staff morale low'
In total, there are 429 such posts and more than half are at the upper salary level of more than £25,000.
Nipsa says it began negotiations last June over lifting the recruitment ban, but nothing has happened.
It says staff morale is very low.
The Department of Education has said it still aims to the create the ESA, calling it an "invest to save" measure.
It was supposed to have been set up in January 2010 as part of the review of public administration but was delayed due to political wrangling.
Earlier this year, it was revealed that the cost of setting up the ESA in the five years prior to January 2010 had reached £10m.