More than 1,000 attend pastor's rally in west Belfast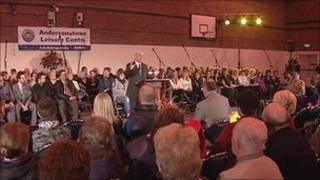 More than 1,000 people have attended a rally organised by the evangelical Pastor James McConnell in west Belfast.
It was held in Andersonstown Leisure Centre on Thursday night.
Earlier this week, a priest said he objected to the rally.
Fr Pat McCafferty accused Mr McConnell, the senior pastor of the Whitewell Metropolitan Tabernacle, of holding anti-Catholic views. This was rejected by Mr McConnell.
In a statement to Radio Ulster, Pastor McConnell said while he criticises the Catholic Church and its priests, he does not criticise Catholics.
He said he was going to Andersonstown "with an open heart and mind".
However, Fr McCafferty said: "I don't preach against Protestantism - we preach the gospel in the Catholic churches of west Belfast.
"He sees west Belfast, he sees the people there, as living in darkness, and they're not."
Pastor McConnell, who is originally from east Belfast, started the Whitewell church, in 1956.
He said Fr McCafferty's comments were "very cruel".