Cancer patients hit by hospital staff shortage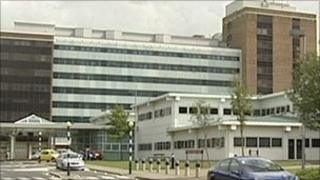 Four patients at Altnagelvin Hospital in Londonderrry have received a late diagnosis of cancer as a result of a huge backlog in dealing with X-rays.
Written assessments of 18,500 X-rays were not carried out for months because of staff and equipment shortages.
The Western Health Trust said the backlog had now been cleared. It also apologised to the patients affected.
The huge backlog emerged last July when it came to light that important reports had not been completed by clinicians.
A spokesperson for the Western trust said the X rays "were never lost".
The spokesperson agreed, however, that important written assessments on the cases had not been carried out due to a lack of staff and equipment being available.
A source within the Western Health Trust told the BBC that for several weeks last summer, hundreds of X ray notes could not be accounted for.
A clinician within the hospital told the BBC that when the problem first emerged last summer there was a lot of confusion over where notes were held and the fact that some did not even exist.
While doctors had visually examined over half of the cases, around 8,000 X rays did not receive that expert opinion.
As a result four people received a late diagnosis of cancer.
A Western Health Trust spokesperson said no further details could be given surrounding those cases.