Questions raised over NI water crisis review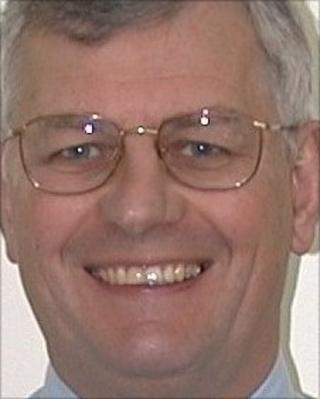 The man appointed to examine Conor Murphy's handling of the water crisis applied last year to become chairman of Northern Ireland Water, it has emerged.
Phil Holder was turned down for the job by the minister whose department he is now investigating.
The former chair of the Committee on Standards in Public Life, Sir Alistair Graham, said the appointment was "totally inappropriate".
However Mr Holder said his application did not pose a conflict of interest.
'Bizarre appointment'
There has also been scrutiny of Mr Holder's previous links to those in the water industry.
Both the SDLP and the Ulster Unionists have said his appointment could undermine public confidence.
There was severe criticism of Northern Ireland Water (NIW) after thousands of customers were left without water over Christmas.
As a result the utility regulator was asked to probe the role of NIW, while the Office of the First and Deputy First Minister appointed two people, one of whom was Mr Holder, to examine the Department of Regional Development's handling of the crisis.
Sir Alistair Graham has described Mr Holder's appointment as "bizarre".
"You wouldn't normally appoint a failed candidate to be chairman of Northern Irish Water to be the person investigating the department's handling of the water crisis that affected so many people in Northern Ireland", he said.
The BBC has obtained emails which raise questions about Mr Holder's connections to others in the water industry, including Lawrence MacKenzie, the man who resigned as chief executive of Northern Ireland Water after the Christmas crisis.
In one email Mr Holder contacts a former colleague, Peter Dixon, who is the Chief Executive of Phoenix Gas.
In it, he tells Mr Dixon about a water-saving device he has discovered. Mr Dixon was so interested he alerted a friend and business contact to its potential. That person was Laurence MacKenzie.
The SDLP Chair of the Stormont Committee on Standards and Privileges, Declan O'Loan, said he was worried about Phil Holder's links.
'Degree of proximity'
"What it (the email) is indicating is a degree of proximity. That to me is far far too close, far too intimate for comfort," he said.
"I think members of the public will look at that and say, are we in fact compounding the problems around the governance of NI Water here, instead of finding a mechanism to resolve them.
"I think the whole integrity of the inquiry is put under suspicion."
Earlier this month a Stormont committee investigated a previous inquiry into Northern Ireland Water.
One of its draft recommendations stated that when independent investigators are appointed certain guidelines should be used.
The Ulster Unionist chair of the Regional Development Committee Fred Cobain said public confidence was the key issue.
"After all if the public don't have any faith in the report that is produced it has been a total waste of time," he said.
"In order to retain the public's confidence you have to be absolutely divorced from any of the participants in this particular review.
"It is clear that circumstantially Mr Holder is not clear from all of the participants."
'No conflict of interest'
In response Mr Holder said he did not think his application posed a potential conflict of interest, nor did his previous business relationships.
He said his business relationship with Peter Dixon ended in 2005 and on the email he sent to Peter Dixon in 2009 about the water-saving device he said he had had no financial or any other beneficial interest in this water-saving device.
A spokesman for Peter Dixon said his business relationship with Mr Holder ceased in November 2005. Regarding the email about the water saving devices his spokesman said that Mr Dixon, "as a responsible citizen" passed the information on to the people who might find it useful.
The Department for Regional Development would not confirm that Mr Holder was considered for a role on the board of NI Water.
The Office of First and Deputy First Minister, which appointed Phil Holder, has not responded to a series of questions sent by the BBC.