Burglars attack pensioner with sticks in bed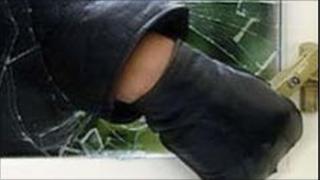 A man in his 70s has been beaten with sticks by burglars as he lay in bed in his Newtownabbey home.
Two men broke into the pensioner's home in Mossley Crescent shortly before 2000 GMT on Wednesday.
They went into his bedroom, held him down and hit him across the legs with metal sticks, believed to be shortened golf clubs.
They stole cash, then left through the back door. The victim was left shaken but not seriously injured.
Police have appealed for information.
Both men were described as being about 6ft tall and were wearing dark clothing with hoods pulled up.