New leader for Independent Orange Order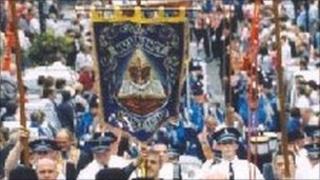 Alan McLean has become the new grand master of the Independent Orange Order.
Mr McLean succeeds Cyril Glass who had served as grand master since the death of George Dawson in 2007.
The Independent Orange Order was founded in 1903, by those "who opposed the Orange Order being used for party political ends".
The new grand master said while maintaining the organisation's idependent identity, he would work together with other unionists.
"The Independent Loyal Orange Institution has always been happy to co-operate fraternally with other sister institutions and to work with fellow unionists in the wider unionist interest.
"That is something that we shall continue to do," he said.
"I also look forward to working with unionist leaders to help secure those liberties and as part of that that to obtain the abolition of the Parades Commission which we hoped would have been abolished by now."