Work under way on Giant's Causeway visitor centre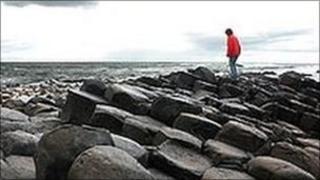 Work has begun on the new visitors' centre at the Giant's Causeway World Heritage Site.
The project is expected to cost around £18.5m.
It was designed by Dublin architects Heneghan Peng, and will be hidden from the coastal landscape by a grass roof.
The Causeway will remain open while it's being built, but there'll be some disruption at the site. It's due to be finished by summer next year.
The causeway on the north Antrim coast is a jagged promontory of hexagonal rocks created by a volcanic eruption 60 million years ago.
About 750,000 people visit it every year.
In 2008, it was nominated as one of the world's seven natural wonders.