Sentence cut for man who 'squatted' in Belfast home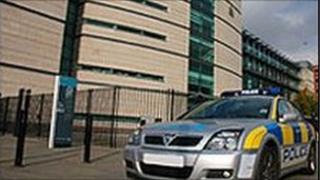 A homeless man who squatted in an apartment to escape freezing temperatures over Christmas has won his appeal against being sent to jail.
Robert Lewandowski, 29, was originally ordered to serve six months in prison for stealing keys and then moving into the south Belfast flat once the woman who lived there left for the holidays.
But that has now been reduced to a three month suspended sentence after a successful challenge in the County Court.
The Polish national was said to have taken nothing during a four-day stay when he used a stove, watched television and cleaned up after himself.
Lewandowski pleaded guilty to theft and wrongfully taking possession of the property at Tates Avenue between 24 and 28 December.
At his original hearing, it emerged that he had been sleeping in apartment block communal areas after losing his home and job with a recycling charity.
He had stolen the keys weeks earlier when he spotted the door to the flat lying open and entered following a party on 5 December.
A lawyer for Lewandowski, of no fixed address, said he had left the property exactly as he found it.
He told the court that when the woman and her partner returned to find him there the defendant did not try to leave.
The solicitor said his client was apologetic, but had only gone in on Christmas Eve when temperatures were down to minus 10 Celsius.
The court was told Lewandowski let himself in to keep out of the cold, using the television and a stove to heat some food.
It was claimed that the woman and police were both sympathetic to Lewandowski's plight.
His solicitor also argued that Lewandowski had taken nothing despite having the opportunity to "clean the place out".
He was given concurrent six months jail terms for each of the two offences at Belfast Magistrates Court.
But the Northern Ireland Court Service confirmed on Wednesday that an appeal against sentence was allowed earlier this month.
Lewandowski, who is now understood to be considering returning to Poland, will instead have a three-month term suspended for two years.