Church opens up for families moved over security alert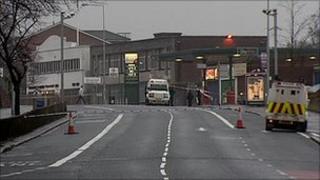 On Tuesday night Antrim Road in north Belfast was closed due to a security alert.
About 100 homes were evacuated. Some families who had nowhere to go were put up at Fortwilliam and McCrory Presbyterian Church overnight.
The Reverend Lesley Carroll said the alert had been "very disruptive".
However, she said representatives from the city council and social services had arrived at the scene very quickly.
"It was very impressive to see somebody from the council there all night, somebody from the social services, somebody from Belfast trust," she said.
"Everyone was there within the first hour of things happening and that was extremely impressive and I was glad to see them and to have their help."
Bernie Kelly, from Belfast Health Trust emergency response team spent the night at the church looking after the families.
"A number of people came initially but some of them had places to go and gradually as the night wore on more people drifted in so we were left with 11 people - eight adults and three children who have stayed overnight.
"One lady had already left and gone on to work by 8am this morning and the rest of them are still in there," Ms Kelly said.
"People were a bit frustrated but they have been very very good and the children have been excellent.
"The police left in a TV and that kept them entertained, so we just try to get them settled, we got them some food and we put up bedding and blankets and we had a quiet night, the place was warm.
Good natured
"The Rev Lesley Carroll has been very good to them and opened the place up so they have been as comfortable as we could make them," she continued.
"Fortunately we were able to get them some warm breakfast this morning, so they're fairly settled.
"We did have three children and they were very good, they were here with their parents and we were able to get them a separate room and it was cosy - their mother is actually pregnant so we've just tried to keep them as comfortable as possible.
"People are very good natured about it, its the only way in this sort of situation.
"Some of the local politicians have been up during the evening to check that everybody is ok and the lord mayor took time out of his schedule to come and see that everybody was alright."
For Ms Kelly, her job for the next few hours is to work with the police and the council to ensure people are kept safe and warm.
"To be honest we have no real information- we've just been told that it is a security alert and that it's quite serious.
"We were told last night to expect to be kept out overnight so it has just been a long evening, I don't think they will be back in before lunchtime.
"But they are fairly calm and we will be here for as long as they need us."