Derry count centre moved after 2010 bomb attack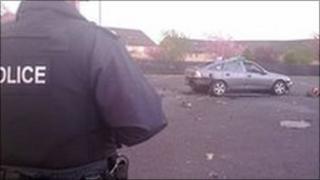 The main election count centre in Londonderry is to be moved following a dissident republican bomb attack during the general election last year.
A pipe bomb was left in a car outside Templemore Sports Complex, and another device left inside the building was not found for days.
The electoral office has decided to hold future counts at Lisneal College in the Waterside.
Mayor Colum Eastwood said he understood the move but was not happy about it.
"I think it's unfortunate that they had to do it, I wish they didn't," he said.
"But if they're given advice I suppose it's important that they have to look after their staff's safety - that is paramount as far as they're concerned."
The DUP's security spokesman, Gregory Campbell, said dissidents could not be allowed to disrupt democracy.
"They tried to disrupt the count last year, they delayed it, but they did not disrupt it," he said.
"They will not disrupt it this year - that's the message that we need to send out."