NI film 'The Crush' is shortlisted for an Oscar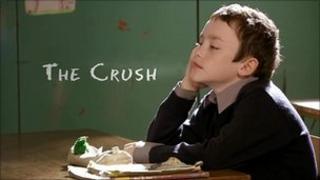 A Northern Ireland film about a schoolboy smitten with his teacher has been shortlisted for an Oscar.
"The Crush", a 15-minute short shot in Skerries in County Dublin in 2009, is one of five films nominated for the best live action short film.
The Crush was written and directed by Belfast-born Michael Creagh and produced by Damon Quinn, one of BBC NI's Hole in the Wall Gang.
In the film the schoolboy challenges his teacher's boyfriend to a duel.
Originally one of 76 films hoping to make it on to the "long list" of 10, it has already won international recognition, picking up a second prize at Robert De Niro's Tribeca Film Festival.
Michael Creagh's son Oran makes his debut playing Ardal, an eight-year-old who falls in love with his teacher Miss Purdy.
Spurned
Having given a her a toy ring to show his affection, heartbreak awaits when he bumps into Miss Purdy and her boyfriend, who have just bought a real engagement ring.
Devastated and spurned, he challenges the fiance to a duel with the winner the last man standing.
Irish short films have previously fared well in the Academy Awards with "Six Shooter" picking up top prize in 2006 and two other films receiving nominations in the past two years.
Michael Creagh has followed in their footsteps with his first foray into writing and directing and describes the recognition he has received as a dream come true.
"I am still coming to terms with it - it was a shock and it has not really sunk in yet, to be honest.
"My background is in advertising but to write and make my own film was something that I always had a hankering to do."
Making the film was an end in itself for Michael, with no expectation that it would go on to receive the recognition that it has.
Subjective
And after it premiered at the Kerry Film Festival, a subsequent rejection by the prestigious judges at the Sundance Festival made him wonder whether it would appeal beyond these shores.
"The Oscar nomination shows how subjective these things can be. I am very proud and it is a great honour for everyone involved in the film."
And what of the performance of his son, for whom it was also a debut performance?
"Oran was a natural. I thought long and hard about involving him in it and people thought it might be better if I got a kid who had a little bit more experience.
"In the end I was really glad I went with him. He showed a real maturity in the role, so much so that people forgot how young he was."
Having been made redundant a few months ago, the news is a welcome end to a difficult year for Michael.