'Sacred' constitution 'may force Adams to stay as MP'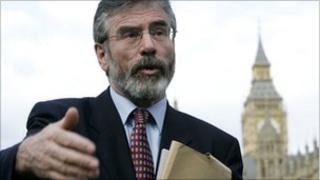 Gerry Adams may have to remain an MP if he does not follow parliamentary rules on resignation, an expert on constitutional law has said.
Austen Morgan said that the British constitution is viewed as "sacred" and he did not believe the rules would be changed to suit the West Belfast MP.
Sinn Fein said Mr Adams, who is standing in the Irish election, resigned in a letter to the speaker.
However, the speaker's office has indicated he did not follow procedure.
Forbidden
Under rules dating back to 1642, MPs are forbidden from formally resigning their seats.
They must apply for a position of profit under the crown, which automatically disqualifies them from being a member of the House of Commons.
Mr Adams has to apply to the Chancellor of the Exchequer to become Crown Steward and Bailiff of the Manor of Northstead.
The other office is Crown Steward and Bailiff of the Chiltern Hundreds, a role currently unavailable as it is held by former Strangford MP Iris Robinson.
A spokesman for the Treasury said that no application had been received by the Chancellor.
In the House of Commons on Tuesday, North Antrim MP Ian Paisley Junior asked the Speaker, John Bercow, whether he would oblige Mr Adams to follow the rules.
Mr Bercow said he would not discuss personal correspondence from a member, adding: "There are procedures to be observed and observed they must be."
MPs can also be disqualified from holding their seats if they are made bankrupt, are mentally ill, receive a prison sentence of more than 12 months or become a member of the House of Lords.
Mr Morgan, a barrister originally from Londonderry, said if none of these issues disqualified the Sinn Fein president, he faced the prospect of having to keep his seat until the end of a five-year parliamentary term.
The Disqualifications Act 2000 means that Mr Adams could sit in both the House of Commons and the Irish parliament, the Dail.
A spokesperson for the Irish government said the law there permitted Mr Adams to sit in Dublin and London.
However, Mr Adams himself has said that he does not want to represent both constituencies.
When announcing his plan to run in the Louth constituency in November he said that he would "work and stay here and travel home when possible."
'Non-issue'
The rules, available on Parliament's website, suggest that the problem cannot be solved by appointing Mr Adams to the role, regardless of his own personal wishes.
They state that an MP wishing to retire must apply themselves to the Chancellor of the Exchequer.
A Sinn Fein spokesperson has told the BBC that Mr Adams has no intention of doing so.
He said: "It's a non-issue from our perspective. He submitted his resignation and that's it.
"He's stepped down from that position. He certainly didn't apply for the Stewardship of the Manor of Northstead."
BBC Newsnight political editor Michael Crick has blogged that Mr Adams' refusal to swear an oath of allegiance to the Queen could solve the problem.
He said that if Mr Adams tried to take his seat without taking the oath, he would be automatically disqualified.
A spokesperson for the NI Electoral Office has confirmed that it has not yet received a writ from parliamentary authorities, which is necessary to begin by-election proceedings.