No plan to harm says man accused of Hughes murder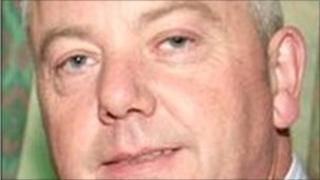 A man accused of murdering a father after his daughter's 18th birthday party told police there was "no plan to cause anybody serious harm," Belfast Crown Court has heard.
Martin Murray, 23, from Windmill Drive, Dungannon, is one of four men accused of murdering Eamonn Hughes, 49, on 13 September 2008.
Mr Murray, his cousin Liam Murray, 24, from Windmill Court, Kevin Toye, 24, from Windmill Court, Dungannon, and William McDonagh, 25, of Kew Gardens, Ballymena, deny the charges.
Mr Hughes was stabbed as he walked home from his daughter's party in Dungannon.
The court heard that Martin Murray read a prepared statement to police less than 24 hours after the killing , telling them that he was "in fear as there was a large crowd armed with belts and bricks".
But a detective told the court that Mr Murray refused to answer any further questions about the murder.
The four accused also deny attempting to murder Martina Donaghy and her daughter, Emma - who were run over as they tended to Mr Hughes - and one charge of affray.
Kevin Murray, 41, from Lisnahull Gardens, also Dungannon, an uncle to the other two Murrays, denies attempting to murder Mr Hughes' son, Kevin, after he allegedly shot him with a crossbow bolt.
The Crown case is that Martin Murray was the knifeman who stabbed Mr Hughes and Mr Toye was the driver of the hijacked taxi that drove over the mother and daughter.
In court on Tuesday, a detective said she was one of the officers who questioned Liam Murray, 24, and that his solicitor also read a prepared statement before he was interviewed.
Quoting from that, the officer said Liam Murray accepted having a verbal altercation with Kevin Hughes and heard shouting coming from the other side of the taxi but did not know who was speaking.
He further claimed that he did not know anything about a knife and that the first he knew about anyone being injured was when he was in the taxi as it was driven away from the scene, when someone said "I think I stabbed someone."
He also said he heard "two bangs" as the hijacked taxi drove away and that afterwards, whoever was driving said he may have run someone over.
The detective said he refused to reply to many questions put to him and also refused to name the people he was with, telling the officers he was in fear of "repercussions" if he did.
During questioning, he said: "Look, I didn't stab Eamonn Hughes alright - end of. I didn't murder nobody, I didn't assault nobody, I didn't do anything. I'm not guilty of these charges you are trying to hit me with."
The trial continues.