'Football tore us apart' - the match made in heaven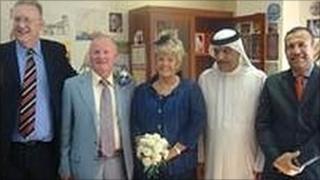 They loved the Beach Boys, they loved football, they were both from Belfast... but alas, they didn't support the same team.
This is the story of how football tore two young lovers apart.
It was a match that both sides lost - the Glens and the Blues got in the way.
East Belfast's Glentoran and south Belfast's Linfield are known as the big two of the Irish League and are its fiercest rivals.
But even a fervent Glentoran fan and a diehard Linfield supporter can get it together. It took just 43 years.
In 1967, 15-year-old Mavis King ran into Lewis Clark Montgomery who was 17, in the queue for Beach Boys tickets at the Ritz in Belfast.
Each felt Good Vibrations, they fell in love.
But they paid the penalty for their football division.
"We always had a respect for our teams, although we never went to any matches together," said Mavis.
"Sadly, we fought more over football scores and league places than was healthy and we split up.
"But some months later, Lewis appeared at my home asking me to come back to him and all would be well if I gave up Glentoran.
"I can, to this day, remember my reply: 'I love you Lewis and I would never do anything to hurt you but I can't give up my team for you'".
The young Mavis thought twice about her decision and tried to contact Lewis by letter - but she didn't get the right address.
Fast forward 40 years and Mavis gets a message from Lewis on the website, Friends Reunited.
"Did you enjoy the Beach Boys in 1967?" asked Lewis.
"Do you still support the Blues?" asked Mavis.
They had two whole lives to catch up on. Mavis had married and moved abroad. She had later divorced. Lewis spent a lot of time in the Middle East. He had lost his wife after a long illness.
In Christmas 2009, they met up and this time Mavis decided to bury the football hatchet.
"He asked me to marry him on a visit to Bahrain last March, we had a civil ceremony on 13 January 2011, and just for him I wore blue," she said.
"The cake was decorated with a blue ribbon I learned my lesson... and I do concede as every good wife should."
Now friends and family will join the happy couple at St Christopher's Cathedral, Manama, Bahrain, where their marriage will be blessed.
"I feel blessed already having found Lewis again. He is such a good man," said Mavis.
Both sides scored...you could say, it was a match made in heaven.