Loyalist Mark Harbinson's sex abuse trial under way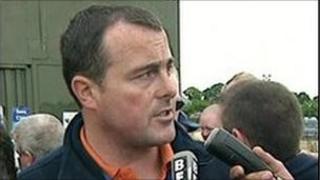 A County Antrim loyalist has gone on trial accused of sexually abusing two girls and a schoolboy.
Mark Harbinson, of Sheepwalk Road in Lisburn, faces a total of 13 charges, including sexual activity with a child and inciting such activity.
The alleged victims were two girls aged 14 and 13 and a boy of 13.
Craigavon Crown Court was told the accused was caught by police with one of his alleged victims in his car on 26 October, 2009.
It was also alleged that three days earlier, topless photos of her were found on his mobile phone.
Two other charges of indecent assault involve a 14-year-old schoolgirl and her 13-year-old friend, a boy, whom the Orangeman allegedly sexually abused at a birthday party in February 2007.
Prosecuting QC David Hunter told trial Judge Desmond Marrinan and the jury that during his police interviews Mr Harbinson "has denied committing any of these offences. He denied it then and denies it now".
Mr Hunter added that the case essentially "boils down to whether the girls and the boy have told you the truth".
The trial, which is expected to last up to three weeks, continues on Tuesday.