Tributes paid to former Mayor of Londonderry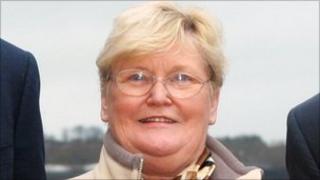 Tributes have been paid to a former Mayor of Derry, Kathleen McCloskey, who died on Monday after a long illness.
Mrs McCloskey represented the SDLP in the Northlands electoral ward for twelve years.
The Foyle MP Mark Durkan said she brought a sense of fun and faith to civic and political life.
"As well as serving the people of the Northlands with great work she served the people of the whole city with great honour on the Council," he said.
Mr Durkan added that Mrs McCloskey's qualities "impressed everyone".
"Kathleen was widely admired for her good nature, respected for her good judgement and appreciated for her good work on behalf of so many," he said.
"She showed great resilience in coping with her illness.
"She sustained her sense of humour and her outgoing personality.
"This proved again her inner strength and character which was called upon and confirmed again in her battle with cancer.
"Kathleen loved life and loved her family above all.
"I extend sincere condolences at this very sad time."
Sinn Féin Councillor, Maeve McLaughlin, also expressed her sadness on the death of Kathleen McCloskey.
"Kathleen was a very popular personality in the Glen area and renowned for her work there over the years," she said.
"On behalf of Sinn Féin, I would like to pass on our sincere condolences to the entire family circle.
"They are in our thoughts and prayers at this time."