Royal children's hospital 'safe' - Michael McGimpsey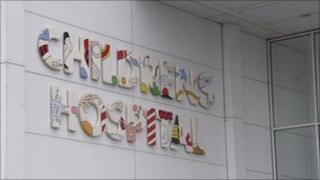 The health minister has sought to assure the Assembly that the Royal Hospital for Sick Children is safe.
His comments follow a report by independent assessors from England who said that facilities fall short of what is expected in the 21st century.
The report was carried out by Interim Management and Support (IMAS) which provides assessment of NHS services.
Michael McGimpsey said that there was no suggestion in the report that a child's life had ever been endangered.
Falling below standards
The IMAS assessment, which emerged in the Irish News on Monday, said the hospital was under-staffed, in need of redevelopment, cramped and falling below standards.
The minister said the assessors, who visited the hospital 10 months ago, had done a good job in highlighting the issues the hospital faced.
He added: "The fact that clinicians are being accused of unsafe practices is ridiculous.
"They're doing great work in a building that should have been replaced years ago."
Staff at the hospital have also been defended by a consultant at Belfast Health Trust, who said he was confident that they provided "the highest standards of care".
Dr Paul Jackson said a team had been put in place and had acted on the recommendations made.
"We took some interim measures, employing extra nurses and doctors and we are working very hard," he said.
"I am completely confident that if you took your child into the hospital you would receive the highest standard of care."
On Tuesday, the chairman of the Stormont Health Committee, Jim Wells, said they should have been told that independent assessors had found problems in the hospital.
Mr Wells said he was angry that they had to wait for newspaper reports to find out about it.
'Big problem'
"What is the sense of having a scrutiny committee if we aren't told about key investigations like this," he said.
"The childrens' hospital is a regional hospital, GPs were referring people here and we did not realise there was a serious issue, to me that is a big problem."
Speaking on Tuesday, Regional Health and Social Care Board chief executive, John Compton, denied the review came about following the death of a child.
"Around last Christmas we were looking at all of the A&E departments, adult and children's and we did a range of activities and this is a commentary on one part of that work.
"There was no suggestion at all that this flowed from a serious adverse incident, that is factually incorrect," Mr Compton said.
"What the report has indicated to us is there is very good practice in the hospital, which is unsurprising, but it also said looking forward, in terms of staffing and care then you need to pay attention if you are to deal with the volume of children coming in."
Mr Compton denied that there was any attempt to keep the review secret.
"If we had received a report or review which had said there was a current live immediate difficulty - we would have acted on that instantly and made that a matter of public record.
"The health minister has known about it for a number of weeks and it hasn't been hidden."
On Monday, Mr McGimpsey announced that the £300,000 refurbishment at a ward on the Royal Belfast Hospital for Sick Children had begun.
Work started on 19 January and is expected to take eight weeks.