Meeting held over Altnagelvin radiotherapy unit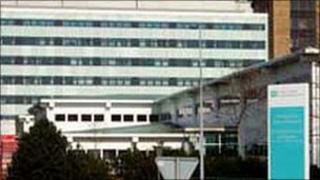 About 100 people attended a public meeting in Londonderry on Monday night to discuss a planned radiotherapy unit at Altnagelvin Hospital.
Health Minister Michael McGimpsey was criticised at the meeting.
Mr McGimpsey said his department has the money to build the centre, but not to staff it.
One woman at the meeting said she was angry that her mother had to travel to Belfast for treatment when she diagnosed with bowel cancer last year.
"The fact that we had to have a four-hour round trip to visit our mother, I think in this day and age is totally outrageous," Marguerite Burke said.
"We should have had the opportunity to only travel over the bridge to see our mum and be there for her because she was afraid, she didn't know what was going on.
"At the end of the day you can't give somebody half a job, if you're going to do something do it right.
"The people of the north west, not only do they deserve it, they need it."
Last Friday, members of Co-operating for Cancer Care NorthWest met the Western Health and Social Services Trust to discuss the radiotherapy unit.
Noelle Duddy from CCC(NW) said she remained "confident" that all patients, regardless of which side of the border they lived on, would have equal access to treatment according to their clinical need.
"It is now essential that the business case for the unit is approved immediately," she said.