Public inquiry into Ards retail schemes delayed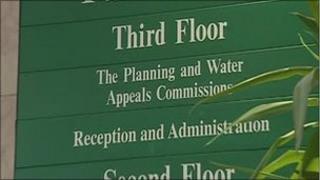 A public inquiry into two major retail developments planned for Newtownards is facing an indefinite delay.
Belfast Office Properties wants to extend the Ards Shopping Centre while rival development consortium, Castlebawn, wants to create a new shopping development.
The inquiry was due to begin on 22 March.
Castlebawn has submitted a new environmental statement which prompted further questions from the DoE.
The Planning Appeals Commission (PAC) said that meant people interested in the development would not have enough time to assess the new environmental information before submitting their evidence to the inquiry.
As a result it was obliged to cancel the Castlebawn inquiry.
The Department of Environment (DoE) then withdrew its request for an inquiry into the Ards Shopping Centre proposal, as it wants both inquiries to be held at the same time.
Resources
The PAC said it expects the DoE, before referring these applications back to it, to provide full planning history information for both sites and to confirm that it has all the environmental information about the Castlebawn proposal that it considers necessary.
It has warned that the resumption of the inquiry process will depend on the availability of a commissioner and staff resources.
Of five major planning applications currently on the PAC's books, three are now facing delay.
In addition to the Ards delay, the PAC is not able to proceed with an inquiry into a retail development at Sprucefield because it is awaiting a new environmental impact assessment.
An inquiry into a proposed runway extension at Belfast City airport is also being held up because the necessary environmental information is incomplete.
Castlebawn consists of Fearghal Eastwood and BJ Eastwood of Eastwood Property and Adam Armstrong and Bill Rush who control various property companies.
Belfast Office Properties is controlled by developers Paddy McKillen and Padraig Drayne.