Man jailed for 'extreme pornography'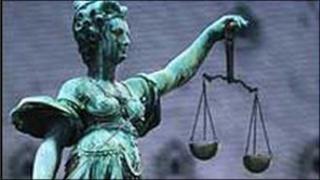 A 45-year-old Carrickfergus man must serve at least five years in prison for a range of sex offences with a child and possession of pornography.
Alan David Moore, from Windslow Drive, was found guilty of 14 offences in December, including five charges of sexual acts with a girl aged 15, who cannot be named for legal reasons.
Moore is the first person in NI to be charged with possession of extreme pornography.
He has been placed on the sex offenders register for life.
Passing sentence on Monday, Judge Tom Burgess said Moore had exploited a vulnerable young woman who was in a state of emotional turmoil after her parents had divorced, and that he believed he posed a significant risk of serious harm to members of the public.
The judge said Moore must serve a minimum five-year sentence.
It will then be up to the parole commissioners to consider whether he continues to pose a threat to the public.
If they believe he does, he will stay in prison until the commissioners are satisfied he no longer poses a threat.
The mother of Moore's victim was in Belfast Crown Court.
Speaking afterwards, she welcomed the fact that he will spend at least five years in prison but said she hopes it is much longer before he is released.