Convicted solicitor banned from practising law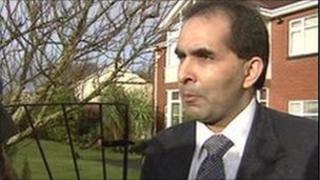 A County Londonderry solicitor who pleaded guilty to inciting loyalist paramilitaries to murder has been banned from practising law.
Manmohan 'Johnny' Sandhu was struck off the solicitors' roll following a disciplinary tribunal.
The 44-year-old was convicted in 2009 at Belfast Crown Court and jailed for 10 years.
The charges were brought after police secretly recorded his interviews with clients at Antrim police station.
During his trial he also pleaded guilty to four charges of attempting to pervert the course of justice.
The charges against Sandhu, of Colby Avenue, arose from the attempted murder of taxi driver Jonathan Hillier in Newtownards in August 2005 and the murders of Jameson Lockhart and Andrew Cully.
An earlier court hearing was told that Sandhu, who practised from offices in Limavady, incited members of the UVF to murder Mr Hillier as he recovered in hospital in August 2005 from a failed attempt on his life.
The prosecution said Sandhu phoned an unknown person from Antrim police station and indicated that Mr Hillier "should be taken out".
The lawyer also attempted to pervert the course of justice surrounding the investigation into the shooting.
In another secret recording, Sandhu was overheard coaching his client, Christopher Dinsmore, who was accused of murdering Jameson Lockhart.
Mr Lockhart was shot as he sat in a lorry on the Lower Newtownards Road in Belfast in July 2005 during a power struggle between the UVF and LVF.
Sandhu told his client how to explain how gloves with cartridge discharge residue came to be seized from his house.
According to transcripts read at an earlier court hearing, Sandhu initially suggested Mr Dinsmore joined a rifle club to explain the residue, and then he suggested that he say they belonged to murdered UDA boss Jim Gray.
When Sandhu was originally charged his professional body, the Law Society, criticised the police for recording his conversations.
Sandhu was later suspended by the society.