Fresh bid to find Coleraine pensioner's killer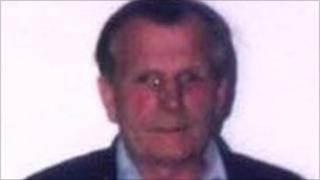 A Northern Ireland pensioner may have been the victim of a random stabbing after his killer had a row with a friend or relative, police have said.
Norman Moffatt, 73, was walking home after buying a paper in a local shop in Coleraine, County Londonderry, 10 years ago when he was attacked.
A detective chief inspector said Mr Moffatt may have been "a convenient victim for a ruthless killer".
He was stabbed at Railway Road at about 0700 GMT on 26 January, 2001.
"I cannot discount the possibility that Norman Moffatt was stabbed for absolutely no reason other than he was a convenient victim for a ruthless killer who is still at large," Detective Chief Inspector Gary Crawford said.
"It is possible that the killer had a row with a friend or family member in a domestic setting, then left the house and attacked the first person with whom he came into contact."
Mr Moffatt died in hospital almost two months after the attack on 19 March.
Ten years later, police have made a fresh new appeal for information.
Suffering
DCI Crawford said: "The Moffatt family have endured immeasurable suffering over the past decade.
"They are ordinary, decent people who saw their father and husband stabbed in the street for no reason.
"Norman was a defenceless, harmless, innocent old man who went out one morning to buy his paper and ended up being randomly, brutally and fatally stabbed.
"The Moffatt family have suffered terribly but there is also a stain on the entire local community - a stain on its character which will remain until Norman's killer is caught."
Mr Moffatt's daughter Norma Moffatt said: "It's been a long 10 years. Events have taken their toll on our family and in particular my mother, whose health has suffered. This has devastated the whole family.
"My brother Barry now has a son and he's the grandson that Dad never knew. It never leaves you. I can still hear Dad's voice that morning when he came back to the house after being stabbed."