Ihab Shoukri died from drugs cocktail, inquest finds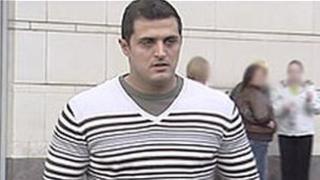 Leading loyalist Ihab Shoukri died from a cocktail of drugs, a Belfast coroner has found.
Mr Shoukri, a senior member of the UDA was found dead by his partner at his north Belfast home in November 2008.
His family have disputed the coroner's finding, drawing attention to a history of suffering fits.
The 34-year-old, from Grainon Way in Rathcoole, had been released from prison in the summer of 2008 after admitting UDA membership.
He had been watching televised boxing with his friend Stephen Green when his girlfriend discovered him not breathing in the early hours of 23 November.
Mr Green denied knowing of any drug use and Shoukri's partner Emma Ritchie said she was also unaware of anything illegal.
There was no evidence of substance abuse in the house following the death, police said.
Mr Shoukri's brother and fellow loyalist Andre was in court for the hearing but left before the end.
Ms Ritchie said he had been "terrible" on the day of his death but against her advice played football.
'Not pure morphine'
He suffered 15 seizures between 2003 and 2006 but doctors had been unable to determine the cause and he had not been attending appointments.
Assistant state pathologist Dr Peter Ingram discovered morphine, codeine and diazepam in his blood after death and said the composition of the morphine led him to conclude it had been as a result of heroin use.
There was no evidence of injection so he said it was likely it had been smoked.
"It was heroin and not pure morphine," he said.
He added: "It would seem reasonable to conclude that it was the effect of these drugs which led to the development of pneumonia."
He said if the victim had died from an epileptic fit there would probably have been little signs to cause death and no pneumonia.
In Mr Shoukri's case there would have been a gradual loss of consciousness from the effects of the drugs and the onset of pneumonia, the medic added.
Dr Ingram said: "To attribute death to a seizure one has to exclude other conditions. In this instance because the pneumonia was present you could not have reached that conclusion."
Persistent health issues
The levels of morphine on their own would probably not have been enough to kill Shoukri but when combined with other drugs was fatal, the pathologist added.
Shoukri's mother, Catherine Shoukri, told the inquest her son suffered persistent health issues after a fall left him with ear problems.
These health problems were responsible for the use of codeine and as he worried about his family diazepam would have been used to calm him.
Mrs Shoukri added: "I was not aware of any other drug use."
Coroner Brian Sherrard said: "The use of illicit drugs in our society has become really endemic and has led to the premature deaths of many young people with their full lives ahead of them."