Jim Corr reveals his conspiracy theories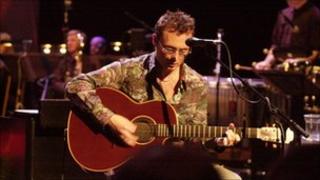 Musician Jim Corr of Irish pop group the Corrs has spoken about his conspiracy theories on an Irish chat show.
The musician, who formed the Corrs with his three sisters, spoke to host Brendan O'Connor on RTE's The Saturday Night Show.
Mr Corr said he believes:
The truth about the September 11 terrorist attacks is being suppressed.
Swine flu may have been man-made.
The American military has a secret tectonic weapon which could have been used to cause the 2010 earthquake in Haiti.
He also argued that climate change is a hoax and that a secret society is trying to establish a one-world government.
Mr Corr said he took an interest in what he calls "geo-politics" after he was sent a photograph of the immediate aftermath of the attack on the pentagon in September 2001.
"It showed this 14ft-diameter hole and there was no imprint from the wings, there was no imprint from the vertical stabiliser and there was no imprint from the steel and titanium engines and I'm going what on earth's going on here?" he said.
According to the musician, who campaigned against Ireland ratifying the Lisbon treaty in 2008, the EU is a step on the road to a one-world government which has been planned since before World War I.