Cathedral takes ex-judge to court on choir job discord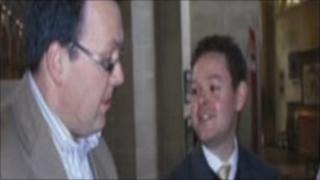 St Anne's Cathedral in Belfast has taken a former Supreme Court Judge to court.
The Cathedral board served Sir Donald Murray with a High Court injunction to stop him publishing the findings of two internal inquiries.
They focus on a dispute involving the Cathedral's former Director of Music, Philip Stopford.
The Church of Ireland decided to close his post last year.
The decision prompted the resignation of five board members at the cathedral. Now, Dean Houston McKelvey of St Anne's is facing calls to explain his role in the dispute.
Mr Stopford who is in his early 30s, took up his post in 2003 and left after the Church authorities said they closed his post to save money. But others were not convinced about why he left.
Former Supreme Court Judge Right Honourable Sir Donald Murray said: "When this announcement was made in June that he was leaving and he was being treated as redundant on financial grounds - it was a bombshell and I simply had to take notice. My long association with the cathedral was such that, of course, everybody was concerned about it."
Sir Donald decided to carry out his own inquiries.
But the Cathedral went to the High Court to block him from publicising any details from the two church inquiries into the matter. The injunction resulted in Sir Donald having to pay costs of £15,000.
Sir Donald's findings cannot be made public for legal reasons.
But he has sent a letter to members of St Anne's congregation, claiming it contains the facts leading up to Mr Stopford's removal.
"There were all sorts of theories and versions in the congregation. I have tried to set it all down, so that everyone knows," he said.
Redundant
The Church has also sent a letter claiming that Sir Donald's was a "selective and partial version of events".
But it does address problems between the Dean and Mr Stopford and refers to "the breakdown of the working relationship" between the pair.
The letter again insists that the decision to make the Director of Music post redundant was for financial reasons.
However, Sir Donald said: "I think the Dean must tell us his side of that, no doubt one has to hear the other side. But, until he does, we haven't heard, we haven't got his version."
Dean McKelvey is due to leave his post at St Anne's at Easter. But members of his congregation would like answers.
They want to know why the Cathedral is so determined to keep the findings of the two Church inquiries secret. Dean McKelvey was not available for interview.