Burst pipes at Northern Ireland schools cost £1m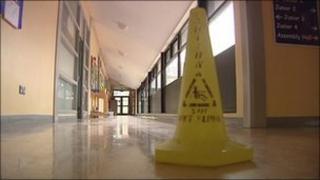 Repairing burst pipes in schools due to the freezing weather has cost Northern Ireland's education boards almost £1m.
The bill could be even higher when all the work is completed.
At one point there were 700 schools closed because of the snow and freezing weather and 300 have now reported costly water damage.
The five education and library boards have so far put in bills amounting to £940,000. The highest bill was the £327,820 of the Belfast board.
This is despite the fact it has the smallest number of schools.
The smallest bill came from the board with the largest number of schools - the North Eastern.