Former NIW boss Laurence MacKenzie gets £97,000 deal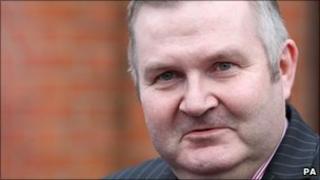 The Department of Regional Development insists the resignation payment to the former chief executive of NI Water is his minimum legal entitlement.
The department said it sought legal advice before agreeing to pay Laurence MacKenzie £91,000 - six months' salary.
They have said it is normal practice to also pay him £3,000 towards legal costs, and a further £3,000 towards his tax advisor's fees.
Mr MacKenzie resigned after the water crisis over the Christmas period.
It saw 40,000 homes and businesses without supply at its peak.
In a statement, a DRD spokesperson said the payment to MrMacKenzie was "not a golden handshake".
"The minister sought legal advice on the details of the arrangements put in place by the board of NI Water on acceptance of Laurence MacKenzie's resignation to satisfy himself that this was the minimum contractual entitlement," the statement said.
"The legal advice confirmed that the six months pay in lieu of notice was the minimum contractual entitlement."
NI Water was heavily criticised for its response to the water crisis, answering only a small proportion of the public's requests for help.
'Tremendous efforts'
Following his resignation, Mr MacKenzie said his staff had made "tremendous efforts" but added that he "believed firmly in the principles of responsibility and accountability".
Details of the resignation package were supplied by Minister for Regional Development Conor Murphy in an answer to an assembly question by the SDLP's Conall McDevitt.
Commenting on the severance deal, Mr McDevitt said: "Following Mr MacKenzie's announcement to resign, the minister said on several occasions that he would not support any large payout, yet it appears from the figures released to me that Mr Mackenzie got his full contractual entitlement.
"Many who are on a few weeks' or a month's notice will be gobsmacked to hear that Mr MacKenzie got a full six months salary as he walked out the door."
Northern Ireland Water's performance during the crisis is to be investigated by the utility regulator.
The role of the Department of Regional Development is to be examined by Philip Holder, who has 25 years' experience in the utilities sector in England, and Heather Moorhead, former chief executive of the NI Local Government Association.