Thieves target Londonderry car owners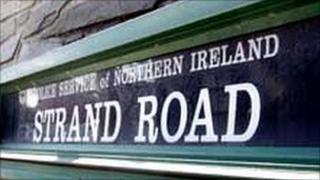 A Londonderry couple have said they are "terrified" after their car was taken from outside their house as they slept.
The family's silver Renault Megane was taken from Sandale Park on Friday morning and was discovered burnt out in Bloomfield Park a short time later.
Michael Phelan said the thieves also broke into his home.
"We didn't discover we were burgled until we went to look for the car keys," he said.
The police are also investigating a second car theft in the city.
A Lexus 220 was taken from Lenamore shortly after 1230 GMT on Friday.
It was found burnt out in Ardnamoyle Park.
Mr Phelan said he was "very lucky" that the family slept through the incident.
"A car can be replaced. It's the personal things we had in the car that are irreplaceable, the pram and prayer cards.
"There's no words that can describe how bad this makes you feel.
"No one deserves to feel in danger in their own home.
"It's a horrible feeling."
SDLP councillor Shaun Gallagher said he will meet the police on Monday to discuss the matter.
"If they were robbing banks there would be a special unit after them," he said.
"I want a special police unit set up to deal with this, that is what is needed.
"It's also important that people secure their property.
"This is pure vandalism."