Polluted Co Antrim river 'may take years to recover'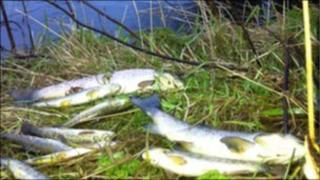 It could take several years for a County Antrim river hit by a major fish kill to recover, the Ulster Angling Federation has said.
Anglers said hundreds of fish have been killed on the Sixmilewater River, which runs from Ballyclare through Antrim and into Lough Neagh.
Robbie Marshall of the Ulster Angling Federation said fish of all sizes - including salmon and trout - had died.
"Yet again we've had a river that's been partially destroyed," he said.
"It's going to take several years now and a lot of hard work by the Ballynure club to bring this river back to where it should be."
There was another major fish kill in the same river in 2008.
The latest one was reported to the Environment Agency on Sunday afternoon.
Norman Henderson of the agency said it looked like the river had been polluted.
He said water and fish samples and been taken away to be analysed to see if any specific chemicals could be identified.
Alliance councillor Neil Kelly said: "If indeed the cause of this incident is established and pollution is deemed to be the cause, I would hope the full rigour of the law is brought to bear on those responsible."