Two women rescued from flat fire in Newtownabbey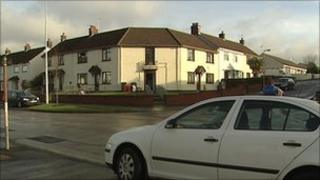 Two woman have been rescued after a fire broke out in a block of maisonette flats in Newtownabbey.
A 42-year-old woman was found unconscious in a bedroom in one of the properties at Rathcoole Drive at 0030 GMT on Saturday. She was brought outside and given oxygen before being transferred to hospital.
Fire crews also broke into another flat and rescued an 84-year-old woman.
The fire is believed to have started accidentally.
Both women were treated by fire crews and paramedics at the scene.
The 42-year-old woman is said to be in a stable condition in hospital.
Badly damaged
The 84-year-old woman was treated for the effects of breathing in smoke.
The flat where the fire broke out is badly damaged. Smoke damage was also caused to the communal hallway.
Station commander, Mark Beresford, urged people not to put their lives at risk.
"We believe the 42-year-old woman went back into her flat after the fire broke out to retrieve an item," he said.
"Our advice is to get out, call the fire brigade and stay out."