Ministers move to safeguard school savings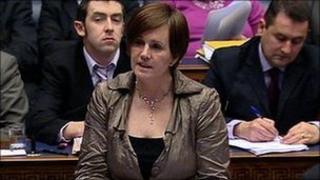 The Executive has moved to safeguard surplus money accumulated by about 800 schools in Northern Ireland.
The money had been in jeopardy after the Treasury in London removed access to funds not spent in the end of year flexibility scheme.
This was money saved by schools for future projects.
On Friday, the education and finance ministers guaranteed to put in place arrangements so schools continue to have access to the surpluses.
Education Minister Caitriona Ruane said the money - £56m - would come from the Northern Ireland block grant.
"These were previous commitments made to schools and it's only fair that the Executive honoured those.
"What we're saying is we're going to honour the agreement that was made in 2008," she said.
"This is money that is actually schools' by right, they built up this money.
"The Executive agreed the amount and in meetings with Sammy (Wilson) today we agreed the money would be found, put forward and commitments honoured to schools."
Finance Minister Sammy Wilson added: "This should end the concern across the school system - ensuring that both past and future savings will be honoured will provide the certainty schools require."
The chairman of the Education Committee Mervyn Storey said the move would allow schools to continue saving and protect any savings already made.
"Many schools have made savings and have budgeted to use those savings for specific projects," he said.
"The finance minister has assured me that the Education Department will have the ability to honour these commitments."