Galloway to run for West Belfast?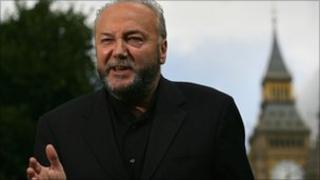 A former Sinn Fein publicity director has suggested left-wing Scottish MP George Galloway would make a suitable successor to MP Gerry Adams in West Belfast.
Danny Morrison, writing in next Monday's edition of the Andersonstown News, says Mr Galloway could take on the "establishment" and raise issues in Parliament such as "collusion" and the Pat Finucane murder.
Mr Morrison suggests Mr Galloway would need to adhere to Sinn Fein's abstentionist policy.
However, he said he could be backed by Sinn Fein as an independent in the republican stronghold.
"In West Belfast, we can think outside the box, and, if so, what about you the people, welcoming into this revolutionary neighbourhood, Mr George Galloway?"
The article begins with the words, "I know it is probably a non-runner but."
Yet Mr Morrison, himself a republican prisoner, goes on to say why the Respect Party member and former MP for Bethnal Green and Bow might be a worthy choice. He describes Mr Galloway as "someone who used his status to tear strips off the establishment".
"He is articulate, personable, loyal and dedicated and one of the greatest supporters of our Palestinian brothers and sisters," he writes.
''Abstentionist problem'
"In 2005, when summoned to the US Senate to be humiliated and explain his stance on the Middle East he turned the anticipated outcome on its head and put American foreign policy in the dock."
In his article, Mr Morrison says that, if Mr Galloway was acceptable to the people of West Belfast, he would probably have to run as an independent because of the "abstentionist problem".
He adds that if republicans could be asked to vote for Alasdair McDonnell, SDLP, who does take his seat, then "I would have no problem in voting for George and with him taking his seat, berating the Brits over Pat Finucane, collusion, the bloodshed they have caused, their war crimes".
Mr Morrison suggests Mr Galloway could be an "incendiary presence" and "a voice for the oppressed of this earth."
He writes: "It would be us 'invading' them, a major reversal of colonialism, a statement of our internationalism."
In his article, Mr Morrison says that Sinn Fein has hundreds of "ex-prisoners and activists" to choose from when considering a candidate to contest a future by-election in West Belfast.
He cites Pat Sheehan, who recently inherited Gerry Adams assembly seat, Mairtin O Muilleoir, managing director of Belfast Media Group, who is seeking a council seat in Belfast, and MLAs Alex Maskey and Jennifer McCann.
A Sinn Fein spokesman said Mr Galloway was not a member of Sinn Fein and would not qualify for party selection.