Injured policewoman has riot 'nightmares'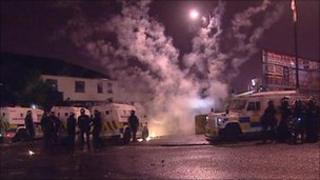 A policewoman hit by a concrete block during rioting in north Belfast was left in excruciating pain and suffering from recurring nightmares, a court heard on Friday.
In a statement the constable recalled the "horrifying sound" of being struck and falling to the ground.
She was called to the scene after a parade on 12 July in Ardoyne, Belfast erupted into serious public disorder.
She was one of 48 PSNI officers injured during three nights of violence.
Details of her injuries were disclosed as 26 defendants were returned for trial on charges connected with the disorder.
One of them, Rodger Jarro Costa, 29, a Spanish man with an address at Ulsterville Avenue, Belfast, is accused of riotous assembly and causing grievous bodily harm to the policewoman.
A prosecution lawyer told Belfast's Magistrates Court that the grievous bodily harm charge against Mr Costa was justified due to the extent and impact of the victim's injuries.
'Pain'
He read parts of her statement in which she said: "I felt incredible force hit me on the back of the head and shoulders.
"I remember the horrifying sound I made as I fell. The pain to my neck and back was instant and excruciating."
The officer recalled being unable to move as missiles continued to strike her.
As her account was read to the court one of the accused, who all appeared together in court, said: "Harden her".
In a second statement she described suffering injuries to her cervical spine, numbness in her arms, pins and needles, tinnitus, severe headaches, pain to her jaw and bleeding gums.
She was kept in the Royal Victoria Hospital for three days, had to undergo physical therapy and was unfit for duty for a period.
Prosecuting lawyer Philip Henry told the court the officer also suffered from anxiety, sleep problems, constant ringing in her ears and recurring nightmares.
A defence solicitor claimed her two statements gave contradicting accounts of the extent of her injuries.
He also questioned the level of medical evidence, and asked for the grievous bodily harm allegation against Mr Costa to be dropped.
But District Judge Fiona Bagnall ruled that the charge should stand.
She granted a prosecution application for the 26 accused to be returned for trial at Belfast Crown Court on a date to be fixed.
All but three of the suspects were released on continuing bail.