NI victims of clerical abuse meet with church inquiry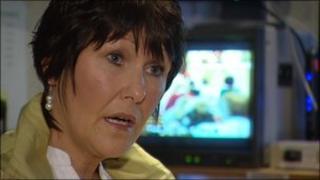 Representatives of victims of clerical abuse have met with members of the apostolic visitation, a body set up to investigate abuse within the Catholic church.
The visitation was announced by Pope Benedict in March 2010 in a pastoral letter to Catholics in Ireland.
The publication of reports into abuse in Catholic institutions in the Republic prompted the decision.
It has held meetings across NI and the Irish Republic this month.
The panel is being led by Cardinal Cormac Murphy-O'Connor, the retired archbishop of Westminster.
Four representatives of Survivors and Victims of Institutional Abuse, the main campaign group for victims of clerical and institutional abuse in Northern Ireland, went into the talks in Newry with senior members of the Catholic church earlier on Friday.
BBC district reporter Claire Savage said she had been told their main role is their duty of care towards victims as well as investigating what went wrong within the structure of the church to allow the abuse to happen and how it can be corrected.
However, some survivors are not convinced that the meetings are anything more than a public relations exercise.
Trust
Margaret McGuckin, of Survivors and Victims of Institutional Abuse, said she was abused at a Sisters of Nazareth orphanage in Belfast from the age of three.
She said she hoped the ongoing talks with senior members of the Catholic clergy "are not just for show".
Ms McGuckin said she believed that bishops were told not to take investigations further.
"They were told not to go to the police with any allegations that were made to them regarding the abuses so how are we, the victims of institutional and clerical abuse, ever meant to trust our bishops or the Vatican anymore.
The Pope's letter expressed sorrow and regret at the abuse perpetrated by priests on the island.
He said he would send teams of inspectors to some Irish dioceses, seminaries and Irish religious orders to investigate how far they had strayed from the new rules laid down by the Vatican to try to curb clerical abuse.
Five senior prelates are taking part in the inquiry panel.
As well as Cardinal Murphy-O'Connor, the others are Cardinal O'Malley, Boston, Archbishop Timothy Dolan, New York, Archbishop Thomas Collins, Toronto, and Archbishop Terence Prendergast SJ, Ottawa.
Friday's meeting comes a month after the Stormont Executive announced it was launching its own inquiry into historical and institutional child abuse.