Respite care under threat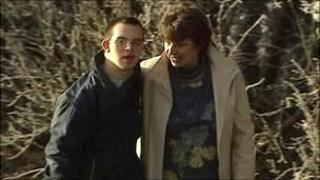 A row in England between the mother of a severely disabled girl and Prime Minister David Cameron has highlighted the inadequate support for respite facilities in Northern Ireland.
On Thursday, Mr Cameron wrote to Riven Vincent after she said she may have to put her daughter into care because she was not getting the support she needed.
While respite care funding is ringfenced in Great Britain, that is not the case in Northern Ireland.
Claire Knox, the mother of a disabled son whose respite club run by Barnardo's in Magherafelt is closing in March, spoke to BBC Radio Ulster about how much her family depends upon the service.
Sixteen-year-old Gareth Knox has Down's syndrome, autism and is unable to talk.
Claire and her husband say Gareth's attendance at the outreach centre is invaluable to them as it gives them two hours of respite every other Monday.
The club caters for between 50 and 60 disabled children with 25 more on the waiting list.
'Massive difference'
It organises activities which give the children a chance to socialise with their friends outside of school.
"The club makes a massive difference, it's only two days a month, but caring for Gareth is a 24/7 job. We often hear that expression, but for us it really is 24/7, Gareth sleeps very little because of his autism," Claire explained.
"We're not complaining about that, we love him to bits, but we don't get to do anything like the things normal families do and those two hours that we know we could just sit and actually do nothing are a pure luxury."
The respite centre was funded by the Office of the First Minister and Deputy First Minister through the children's fund up until a year ago. However, that money was withdrawn last year and although Barnardo's had some money left to keep it running temporarily, that has now run out.
'Severe needs'
"The problem is that I have tried to integrate him into other activities, such as church events and things like that. With the best will in the world, people often have a heartfelt desire to help, but when it comes to actually integrating children who have severe needs it just doesn't happen. No one wants a 16-year-old boy who needs help when he goes to the toilet," Claire said.
According to Claire, the advantage of the respite centre is not just that Barnardo's staff are willing to help.
"It's great knowing he is happy and cared for, Barnardo's staff are just so well trained. When I first sent him I couldn't believe that there were other people out there who knew exactly what he needed.
"The Barnardo's staff are so tuned in. They give you great confidence as a parent, you can walk away and feel like one of you is still with him.
"That is something you almost never get. There's always people that want to help and dear me, they try, but these kids are very, very complex."
Vital services
Monica Wilson from Disability Action said families who have children with disabilities should expect treatment equal to families with children who don't have disabilities.
"You've got the UN convention on the rights of the child, on the rights of people with disabilities and disability legislation that says people should get the support they need," she said.
"Authorities think that removing small pieces of funding won't create any difficulties, but what they will do is remove some really vital services.
"In the longer run that is going to cost more money because you're going to have family break-down, you may have people taken into care like the mother in England was saying. The issue is that there is no support there without people having to fight for it."
While she empathises with Mrs Vincent, the English mother who criticised the prime minister, Claire said she would never want Gareth to go into a full-time home, but she does know the strain having a disabled child can put on the family and any little help is vital.
"People often say to me I suppose you go out for your tea when Gareth goes to his club and occasionally yes we do, but that's very rare because you just want to sit down and know that no-one is going to demand attention and those two hours to us are probably like a week to normal families."