Gerry Adams resigns as West Belfast MP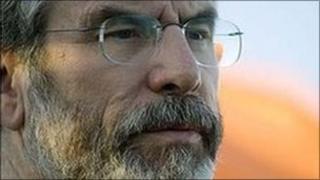 Sinn Fein leader Gerry Adams has formally resigned from his Westminster seat in West Belfast.
Mr Adams is to contest the 11 March general election in the Irish Republic for his party in County Louth.
He had already stepped down as a member of the Northern Ireland Assembly and at the time said he would also resign from his Westminster seat.
He was replaced at the Assembly by former IRA hunger striker Pat Sheehan.
The party will now select a candidate to defend his West Belfast Westminster seat.
Mr Adams was first elected as West Belfast MP in 1983.
He lost the seat to the SDLP's Joe Hendron in 1992, but regained it in 1997 and has held it since.