Investors fear millions lost to French businessman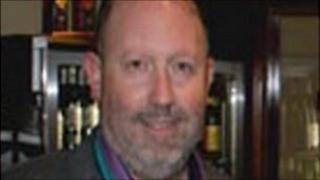 Dozens of people on both sides of the Irish border fear they may have lost millions of pounds in investments.
They invested money with Donegal-based French businessman Francois de Dietrich.
He has had his assets in NI frozen by the Financial Services Authority. It has also ordered him to stop taking deposits into his investment scheme.
Last week, the High Court ordered that Mr de Dietrich be sent to jail for breaching the terms of a court order.
However, he is proving to be a difficult man to track down.
Even in these austere days, Francois de Dietrich claimed there were big profits to be made by investing in liquidated stock.
As well as being good with numbers, the Frenchman seemed good at getting to know people.
People in the business world were persuaded to part with large amounts of money, as were some in the world of sports and so too cash-rich members of the travelling community.
Mr de Dietrich was a well known figure at the City of Derry rugby club - his company ETIC Solutions is in the first of a three-year sponsorship deal with it.
The cricket world was another orbit for the Frenchman. He sponsored events at Brigade cricket club and ran charity functions.
There is no suggestion that either club knew that there were allegations of wrongdoing against Mr de Dietrich.
The Financial Services Authority began court action last autumn and this soon resulted in an injunction banning him and his company ETIC Solutions from taking any more deposits.
Assets frozen
The court order also forced the businessman to freeze £6.8m in assets. The figure has subsequently been increased to £20.2m.
The FSA action was intended to protect investors funds.
A County Antrim solicitor said he has been approached by a number of investors worried about their money.
Last week, the High Court found the Frenchman was in contempt of that injunction and ordered he be sent to prison.
The PSNI said it was assisting the Financial Services Authority and Irish police with enquiries into a so-called Ponzi scheme allegedly operated in Northern Ireland and in the Republic.
It is not clear where the Frenchman currently is, but with a further court hearing scheduled for next week, the list of people wanting answers is continuing to grow.
Mr de Deitrich is being represented by firms of solicitors in Belfast and Dublin, but neither of them would comment when contacted by the BBC.