Councillors defend Derry City Council chief's pay rise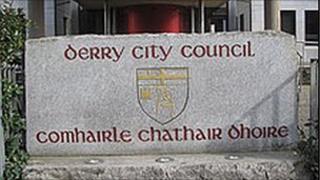 Derry City Councillors have agreed to increase the new chief executive's starting salary by £10,000 to £100,000.
The decision was made at a meeting on Thursday.
Unions have criticised the rise at a time when council restructuring, they claim, could lead to job losses.
The SDLP leader on Derry City Council, Gerard Diver, said it was important that the job's salary attracted the right calibre of candidate.
"I think it was appropriate for the council to evaluate the situation in light of the developing context of the role," he said.
"It includes the work around the city of culture, the regeneration work the council has been involved in and the wider community planning agenda."
Sixty workers protested earlier this week amid fears that council restructuring plans could risk up to 30 jobs.
Alan Law, from the public service union NIPSA, said the pay rise was "insensitive."
"It seems contradictory that a pay rise is recommended because of the significant responsibilities that come with a larger council, yet another report says there are too many senior staff and those roles need to be cut away," he said.
A spokesperson for Derry City Council said it was important to explain the context of the report.
"It arose from an opportunity to review the job responsibilities of the Town Clerk and Chief Executive position ahead of commencing the recruitment process for the vacant post," they said.
" This review and evaluation will ensure the incoming position reflects the scale of responsibilities associated with the progressive plans for the city over the coming years."