Eamonn Hughes was 'stabbed in the heart', court hears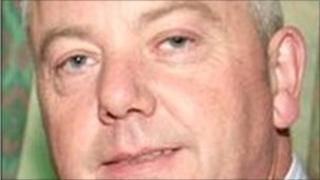 A Dungannon man who was killed after his daughter's 18th birthday party died as a result of being stabbed through the heart, a court has heard.
The State Pathologist for NI, Professor Jack Crane, told Belfast Crown Court this was his view after examining the body of Eamonn Hughes.
Mr Hughes, 49, was stabbed on 13 September, 2008 as he was walking home from a club in Dungannon after the party. Four men were in court on Thursday accused of his murder.
They were Martin Murray, 23, from Windmill Drive, his cousin Liam Murray, 24, from Windmill Court, Kevin Toye, 24, from Windmill Court, all Dungannon, County Tyrone, and William McDonagh, 25, from Kew Gardens in Ballymena, County Antrim.
All four also deny attempting to murder Martina Donaghy and her daughter Emma who were run over as they tended to Mr Hughes, and one charge of affray.
According to the Crown case, Martin Murray stabbed Mr Hughes in the chest and Mr Toye was the driver of the taxi which ran over the mother and daughter.
On Thursday, Professor Crane told the court that Mr Hughes had been a "reasonably healthy man for his age" and that when he examined his body, the main injury he found was the stab wound to the chest.
He described to the court and to the judge, Mr Justice Treacy, how the wound penetrated through to Mr Hughes' heart.
Broken ribs
"It's unlikely that more than moderate force would have been required for the infliction of the stab wound, particularly if the blade was sharp and the tip pointed," Professor Crane added.
He told the court he also found numerous areas of abrasions but that these were "most likely" to have been caused when he collapsed onto the road.
The pathologist said that although he found a total of 11 broken ribs, these were "most likely" to have been caused when attempts were made to resuscitate him.
The trial continues. At hearing.