Teenaged burglary accused 'used blow torch'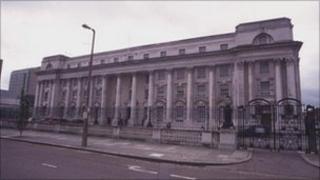 A teenager used a blowtorch to attempt to break into houses in Londonderry, the High Court heard on Thursday.
Ryan Harkin, 18, of Northland Road, Derry, is alleged to have burned through a window frame at the home of an 83-year-old man, prosecutors said.
He claimed to have no recollection following his arrest because he had taken pills known as 'blues'.
The hearing was adjourned until reports and further information from the teenager's social worker are supplied.
He faces a total of 16 charges for alleged offences committed between 12 and 13 January.
They include driving while unfit, two counts of burglary with intent to steal, taking and driving away, attempted burglary and going equipped.
Glass removed
A Crown lawyer said Harkin was detained with two sets of car keys on him after a stolen Vauxhall Astra was abandoned in the Ivy Mead area of the city.
The vehicle had been taken earlier from an address at Lisnarea Avenue, the court was told.
According to the prosecution, an 83-year-old man living at Belmont Park was woken in the early hours of 12 January.
A window frame had been burnt and the pane of glass removed to gain entry.
Although the intruder allegedly went into the property, the pensioner had locked his bedroom door before going to sleep.
Police believe the same method of using a blowtorch on the PVC windows occurred during another attempted break-in at a different location in the city, the court heard.
'Troubled background'
Opposing Harkin's bail application, the Crown lawyer claimed he could go on another spree if he was taking drugs.
A defence barrister argued that much of the case against the accused, who lives in supported accommodation, was circumstantial.
The lawyer read out details of Harkin's troubled background, and said he had "taken refuge" in drugs following the recent overdose and death of a friend.
The judge acknowledged the difficulties faced by the accused, but also stressed his role in ensuring the public was protected.
Adjourning the hearing until the accused's social worker provides reports, Mr Justice McLaughlin said: "Burglary is bad enough, but when you go into someone's house and disturb them in the middle of the night, that's in a different league."