Thieves jeopardise Donegal restoration project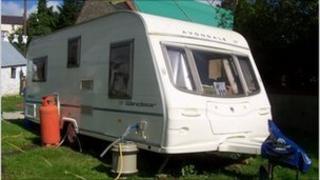 A young couple's efforts to restore a 400-year-old cottage in Raphoe in County Donegal have been jeopardised after thieves stole their caravan worth 10,000 euro.
Helen Hancock and Ian Holyoak were about to sell it to pay for the property's thatched roof, but have now had to abandon their plans.
Ms Hancock said she believed the thieves had come prepared.
"They had to bring a spare wheel as one was tied to the gas tank," she said.
"I felt so secure here, but since this happened I haven't been able to sleep at night. It's so sad."
The Avondale touring caravan was taken sometime over the weekend.
The couple had lived in it for two years. Recently, it had been used as a home for volunteers from across the world who were working on the restortation project.