Four more people die from swine flu in NI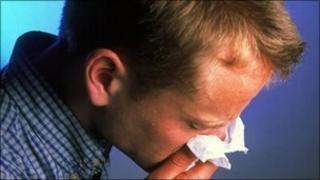 There have been four more swine-flu deaths in Northern Ireland since last Thursday.
The latest deaths bring to 21 the number of people who have died from H1N1 flu during the current flu season.
That figure does not include the two-year-old child from the Republic who died while being cared for in an intensive care unit in NI.
Health authorities, however, believe the "flu season" in Northern Ireland is past its peak.
Of the four victims who lived locally, one was a 10-month-old baby, the others were adults.
Of the 21 people who have died from the H1N1 virus, 18 had underlying medical conditions, one case is still unclear and the other two people were otherwise healthy.
Since last week, one further person has died from the Influenza B virus which is a different strain of flu.
Dr Lorraine Doherty of the Public Health Agency said that despite the latest deaths, fewer people were being infected.
"The trend overall is downwards. We have seen a 60% decrease in our infection rates, we have seen a decrease in our GP consultation rates, we have a decrease in our out-of-hour consultation rates," she said.
"If this continues, I would like to think we have passed the peak in this particular flu season.
"We have plenty of vaccination available to prevent swine flu infection in Northern Ireland. Vaccine is easily distributed to all GP practices here, we are not going to run out."
Meanwhile, Sinn Fein MLA Michelle O'Neill, a member of the Assembly Health Committee, has said it is time Health Minister Michael McGimpsey made a statement about the swine flu "crisis".
"The invisible minister needs to come forward immediately with a strategy to address this crisis, in order to regain public confidence in the health system's capacity to deal with swine flu," she said.