No show for meeting on Belfast roundabout sculpture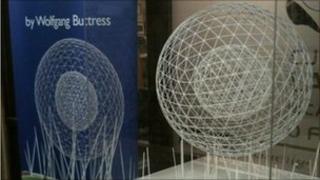 A public meeting to discuss a new sculpture which is being erected on the Broadway roundabout had to be cancelled on Wednesday because no one turned up.
Costing £486,000 it will be the biggest public art sculpture in Belfast.
It is called Rise, because it is in the shape of two globes, one inside the other, and will be lit up to symbolise the rising of the sun.
The sculpture will be built on the Broadway roundabout, one of the main routes into Belfast.
It will be seen by thousands of people using the M1 and the West Link every day.
At almost 40m high and 30m wide, the city council said it would change the skyline for ever.
But is the change a welcome one? Or at a time of budget cuts in health and education is it seen as an unnecessary expense?
These were questions for residents at a public meeting on the Falls Road. But no-one turned up.
Belfast City Council said it may have been because they had already had a meeting in December.
However, the sculptor, Wolfgang Buttress, was there planning to talk about his work.
He said he had wanted to build the sculpture in Belfast since the idea came to him three years ago.
Resonance
"I was walking along the river with my dog at about five or six o'clock in the morning. It was one of those beautiful summer mornings where you see the sun and the moon in the sky at the same time," he said.
"I had this idea of the new sun rising over the reeds, it seemed like it had a real resonance for Belfast and this area."
Local Sinn Fein councillor Breige Brownlee said she hoped the sculpture would bring communities together.
However, she claimed the public consultation had been inadequate and pointed out that the decision had been taken three years ago by others in a very different economic climate.
"There's still a lot of poverty around these areas and there's been a lot of objection to this piece of work and a lot of worries about the amount of money that was spent on it," she said.
"A lot of local people would prefer to have seen the money better spent elsewhere.
"But now that it's a fait accompli, people are beginning to warm to it, which is good."
The steel sculpture will be built in Northern Ireland. Belfast City Council said it has helped sustain 140 jobs.