Cameron Leslie death explanation 'implausible'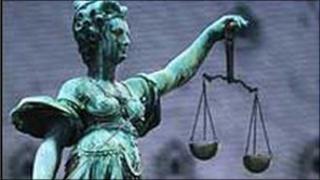 A medical expert has told the trial of a Newtownabbey man accused of murdering his baby son that his explanation for the child's injuries was "implausible".
Ryan Leslie, 26, from Ballyvessey Green told police his son Cameron banged his head on a plastic bath.
However, consultant pathologist Dr John McCarthy said he studied post mortem photographs and saw a "significant" bruise on the back of the baby's head.
Cameron died in September 2008, aged just 14 weeks.
The jury has already heard that Cameron had fractured ribs and blunt force trauma to his head which caused his brain to swell.
Dr McCarthy said he found severe haemorrhages in both of the baby's eyes which were consistent with a trauma injury to the head.
He told Belfast Crown Court it was likely the haemorrhages were caused in the 12 to 24 hours before Cameron was admitted to hospital.
Dr McCarthy, who is based in England, said after his initial examination he thought the baby may have died as the result of shaking before seeing the bruise in the photographs.
Asked about the accused's suggestion that the injury might have been caused by Cameron propelling himself backwards in a plastic bath and hitting his head, Dr McCarthy said: "In my opinion, that is implausible".
Under cross examination from a defence lawyer, Dr McCarthy agreed that the bruise had not been spotted by medical staff at Antrim Area Hospital where he was first admitted but it was later seen by teams at the Royal Victoria hospital for sick children in Belfast.
He said it was possible that bruising on the baby's body could have been caused "during active treatment" as medics tried to save Cameron's life.
The case continues.