Man charged with Dungannon murder of Audrius Aukstuolis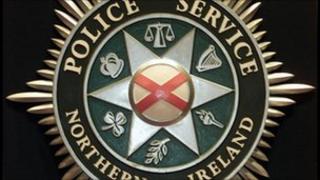 A 28-year-old man has been remanded in custody charged with murdering a man in Dungannon earlier this month.
Audrius Aukstuolis, 28, a Lithuanian, was stabbed to death in Ann Street in the County Tyrone town on 12 January.
Gediminas Stauskas, originally from Lithuania, appeared before Dungannon Magistrates Court on Wednesday.
The court heard he had admitted producing a knife, but said he was defending himself and in doing so, Mr Aukstuolis was wounded.
A Detective Sergeant told the court police answered a 999 call to Ann Street in Dungannon last Wednesday at midday.
There, they found Mr Aukstuolis, who had been stabbed.
He was taken to hospital where he died the following day.
Mr Stauskas, who was then in the Irish Republic, returned to Northern Ireland and was arrested last Friday.
In a statement, he confirmed he had been in Ann Street with Mr Aukstuolis at the time of the incident.
The detective told the court that the meeting between Mr Stauskas and Mr Aukstuolis had been pre-arranged and there was a history of threats between them.
Mr Stauskas was remanded in custody, to appear again by videolink on 16 February.
On Monday, a police officer was released on bail over allegations he accessed the police computer to provide information about Mr Aukstuolis prior to his murder.