Swine flu patient in Brookeborough ambulance crash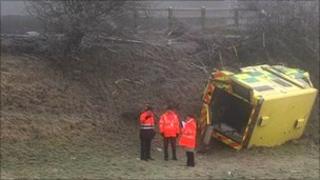 The ambulance which crashed near Brookeborough in County Fermanagh on Wednesday was transferring a woman with swine flu to an intensive care unit.
The emergency vehicle collided with a lorry and overturned at about 1530 GMT on Wednesday.
A woman doctor was seriously injured, but the patient was not hurt.
The four other people in the vehicle, two ambulance crew and two nurses, were treated for minor injuries at the scene.
The ambulance was under police escort and the police ombudsman has been informed.