NI unemployment figures up by 300 in December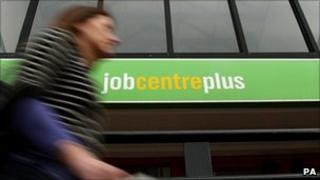 Unemployment in Northern Ireland has risen once more.
The number of people claiming unemployment benefit increased by 300 in December to a total of 58,500.
Over the past year, the number of people who are without a job in Northern Ireland has increased by 7.7%.
This pattern contradicts the wider UK figure. In the UK as a whole, the jobless total has fallen by 9.0% over the past year.
BBC NI business correspondent Kevin Magee said: "Unemployment here is still rising while it continues to falling across the UK as a whole.
"Over the past year, the jobless total in Northern Ireland has increased by almost 8% but has fallen by 9% across the UK.
"And because the rate is rising faster here, we have almost caught up with the overall UK rate of 7.9% which compares with 10% in the EU and and 14% in the Republic.
Enterprise Minister Arlene Foster said: "The latest labour market indicators reported an increase in both the unemployment rate and in the number of people claiming unemployment benefits in Northern Ireland.
"Our unemployment rate (7.8%) is now almost on a par with the UK rate (7.9%). However, it remains well below the European Union (9.6%) and Republic of Ireland (14.1%) rates."
She said there was evidence of growth in the manufacturing sector in Northern Ireland and the draft budget proposed important steps to help this.
"Despite the difficult economic conditions, opportunities still exist for those companies that can gain a competitive advantage through the provision of high quality, customer-focused products and services," Ms Foster said.
"With that in mind, I would like to encourage all our businesses to look beyond their existing markets and seek opportunities for growth throughout the global economy."