Derry City Council shake up details revealed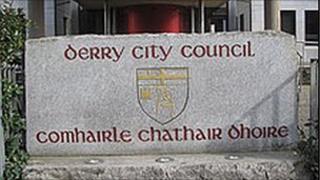 Details have emerged of Derry City Council's restructuring plans, which unions say could lead to around 30 job losses.
According to the report, the current seven council departments will be merged to create three.
It also says a redundancy scheme, as well as a voluntary early retirement scheme, may have to be implemented.
Derry City Council says it is committed to going ahead with the proposals.
The report also includes the findings of a study by PriceWaterhouseCooper which found that "significantly more" of Derry City Council's staff earned more than £50,000 per year than in other "similarly-sized" councils. They said this "further emphasised the case for change".
The document has been given to unions, who met management on Tuesday to discuss the issues.
Alan Law from the union NIPSA, which represents council workers, said the report was still short on detail.
"It is quite clear that there will be job losses as a result of these plans" he said.
"The changes are at senior management level but inevitably they will have a cascading effect. Trying to create the impression that this is simply removing a few senior people is very much far from the truth. "
Financial journalist Paul Gosling said the report clearly explained why change is needed.
"It is difficult to understand why Derry City Council is not efficient, yet it has 21 officers earning over £50,000 a year," he said.
"It is clear that the council needs to streamline its operations at a senior level".