UUP refuses to back draft NI budget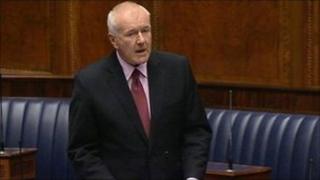 The Ulster Unionist Party has refused to endorse the draft budget.
Party finance spokesperson David McNarry said it failed to take proper account of inflation and had too little detail at this stage.
He said his party did not believe the budget could deliver economic stability or growth and must be reworked.
The budget, which details savings of £4bn over four years, was published just before Christmas.
Unknown outcomes
Several departments will have to make signficant savings as a result. Capital budgets are particularly badly hit.
Last week, Health Minister Michael McGimpsey said that the health allocation would lead to 4,000 job losses before 2015.
Mr McNarry said Sinn Fein and the DUP should agree to go back to the drawing board.
The Stormont finance committee member said: "Due to the high level of unknown outcomes based on limited information and aspirational claims, the UUP is unable to endorse the draft budget.
"The proposals lack the cutting edge necessary for the delivery of economic stability and growth.
"The proposals do not encourage the climate of confidence necessary for significantly increased investment.
"We have already experienced the negative impacts of aspirational income targets not being met in the last budgetary cycle.
"In Northern Ireland's interest and in the interest of credible and stabilising government planning, we do not wish to repeat the experience."
Compelling arguments
Mr McNarry's position has been criticised by Finance Minister Sammy Wilson.
He said the cuts had been made necessary due to decisions made by the Conservative Party in Westminster, which stood on a joint ticket with the UUP in the election last year.
"The UUP response to the budget argues for more money for jobs, more for health, more for education but fails to indicate where this money would be found," he added.
"Has no-one told the UUP that money doesn't grow on trees?
"I would be delighted to be able to give more money to every department.
"Each department has put forward compelling arguments but the reality is the pot is only a certain size and under the UUP's Tory friends, it keeps getting smaller."