£50m budget cut means no money for Olympic centres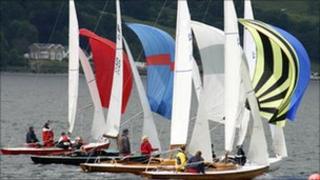 Plans to build five state-of-the-art sports centres in NI in the countdown to the 2012 Olympics have been shelved after a £50m government budget cut.
The projects affected are a cycling velodrome, tennis centre, sailing facility, athletics track and basketball centre.
The sports minister said cuts meant the money was no longer there for them.
However, Nelson McCausland added that none of the projects had yet produced a "satisfactory business case".
"With all of them, when they were scrutinised by Sport NI and by the economists internally it became clear that there were significant issues that needed to be reviewed," Mr McCausland said.
"The fact is we have still not received a single satisfactory business case."
He added: "I fought very hard for sport in our capital programme and over the next four years we will have £130m of capital spend on sports infrastructure in Northern Ireland.
"There are a range of competing interests and competing demands."
BBC NI business correspondent Kevin Magee said the decision was due to significantly reduced funding for the Department of Culture, Arts and Leisure in the recent budget.
"This represents a major set back for a host of sporting associations who are now among the first casualties of the spending cuts" he said.
The five projects are a cycling velodrome at Downpatrick, tennis centre at Hillsborough, sailing facility at Ballyholme, athletics track in Antrim and basketball centre in Lisburn.
The planned £27m cycling velodrome would have been the first of its kind in Northern Ireland, and would have been managed by Down District Council. A total of £17m in funding was to come from the Stormont Executive.
It was envisaged that Olympic teams would train there ahead of the 2012 games in London.
Down District Council chair, Eamonn O'Neill, said he was "angry and annoyed" at the government's decision to cut the money.
"We are running up bills of close to £50,000 either spent or committed to be spent already, on the basis of what was described to us as ring-fenced money," he said.
"We were described as a preferred candidate, we had reached that status."
Tennis centre
Eamonn McConvey, who is chair of the council's Recreation Committee, said it would be seeking a meeting with NI's First and Deputy First Ministers on the issue.
George Stephenson, of the Ulster Branch of Tennis Ireland, said it would be "losing out" on the prospect of facilities which were unprecedented for Northern Ireland.
"We were going to have four permanent acrylic courts and eight outdoor courts which would be covered in the winter with a dome," he added.
"The problem is the delay time from 2006 to 2011.
"The project was supposed to be up and running by 2010, so the facilities should have been built by 2010 and it has just been delay after delay.
"It is pure frustration that for five years we have been led along with a bit of string."
Last year it was confirmed that Northern Ireland's first Olympic size swimming pool at Bangor, County Down, would not be ready until "late summer" in 2012, following delays in its construction. It means Olympic teams will not get the chance to train there before the London games.
Sport NI also claimed that 20 of Northern Ireland's most talented athletes would not receive funding to prepare for the 2010 Commonwealth Games and 2012 Olympics after £2.5m of cuts in government resources were announced.
In a statement in March last year on "elite facilities", Sport NI said £50m of funding had been "earmarked to address some of the infrastructure deficit which has contributed to the underdevelopment of sports in Northern Ireland".